DAVE RONDOT meets client needs in one of three ways.
First, as a Full Service Production Company capable of staffing up with experienced media professionals to meet the requirements of the most demanding client. Customers, who have high-end needs and the budget to support that level of production.
Second, as a Digital Content Creator where Dave Rondot multi-tasks as producer, director, camera- operator, and editor. Because of his years of experience playing each of these individual roles he is able to achieve results that rival the look of productions costing much more.
Third, as an Experienced Freelancer where Dave Rondot's services as a Producer, Director, Camera- operator or Editor are available to other production companies or agencies at a competitive day rate.

Dave Rondot's experience encompasses product development and testing, product announcements, marketing, sales and service training, manufacturing, and public affairs. He has worked with clients at the retail, wholesale, corporate management and global corporate strategy levels and produced everything from 30-second commercials, to 90-minute training videos.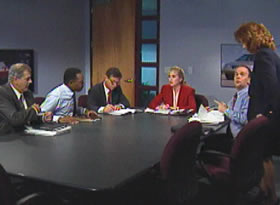 Ford "Supplier Relations"